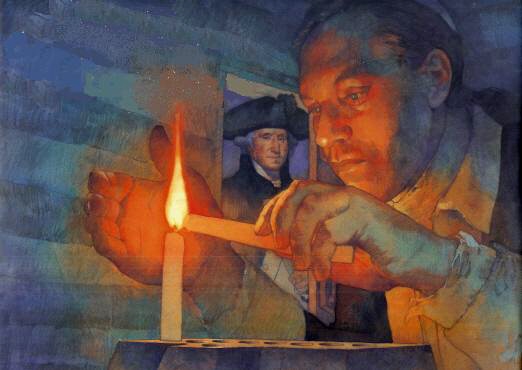 This painting is from a wonderful children's book called " Hanukkah at Valley Forge" by Stephen Krensky, based on a true incident of George Washington discovering a soldier at the encampment celebrating Hanukkah.
Years later, Washington was invited to the home of Michael Hart, a Jewish merchant in Easton, Pa. during the holiday. When Hart proceeded to explain the holiday , Washington said he already knew about it, having encountered a Polish soldier celebrating it at Valley Forge. Hart's stepdaughter Louisa, wrote about the incident in her diary.
In Mikveh Israel cemetary in Phil. ( 1740), there are 21 Jewish soldiers of the American Revolution buried, and among them, Phillip Moses Russell, a surgeon's mate, who was commended for his work at Valley Forge.
Submitted by Meryl Kryza